Happy holidays, friends! Whether you're thinking about having a small office gathering or big festive bash, a holiday party is a great way to bring your team together. It gives everyone the chance to enjoy delicious food, relax and have an experience they can cherish and look back on. It's also an excellent way to recognize your team's hard work and efforts throughout the year.
We understand that this time of the year is especially busy for many of our corporate clients. A holiday party may be the last thing on your mind. So, let us handle the nitty-gritty while you take credit for the awesome party. Here are some holiday ideas to inspire your office holiday party this year:
Festive Themes
Some winter themes that our guests have enjoyed the most were those that made them feel like they were transported elsewhere. We want guests to walk into their office building and not be able to recognize the lobby area or their office café. Experiences have been crafted around themes like "Let It Snow," "Winter Wonderland," "White Christmas" and "Santa's Workshop."
We once coordinated a holiday party for a software company based in Delaware. They had just recently moved their headquarters, so they wanted to really celebrate. We arranged for life-size Santa's workshop-style houses to be lined throughout the lobby.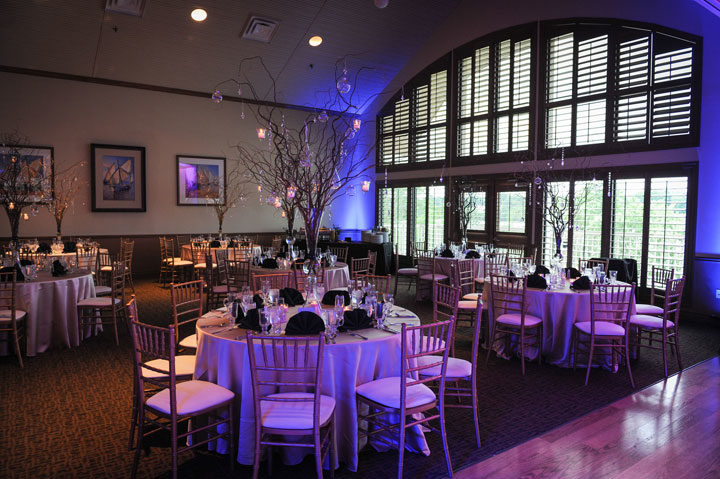 Party-goers enjoyed roaming from house to house. Each one had a different theme. One house was surrounded by oversized candy canes, another was covered in fake snow. One house even featured a Polar Express conductor. This party also included two DJs, white uplighting and an open-style photo booth with a moving "snowy night" backdrop to take photos in front of.
Wintery Decor
Using décor in all fashions helps us create magical experiences for our guests. Décor such as artificial snow machines, 3D fireplace projections, hanging snowflakes and life-size Christmas trees can transform any party location.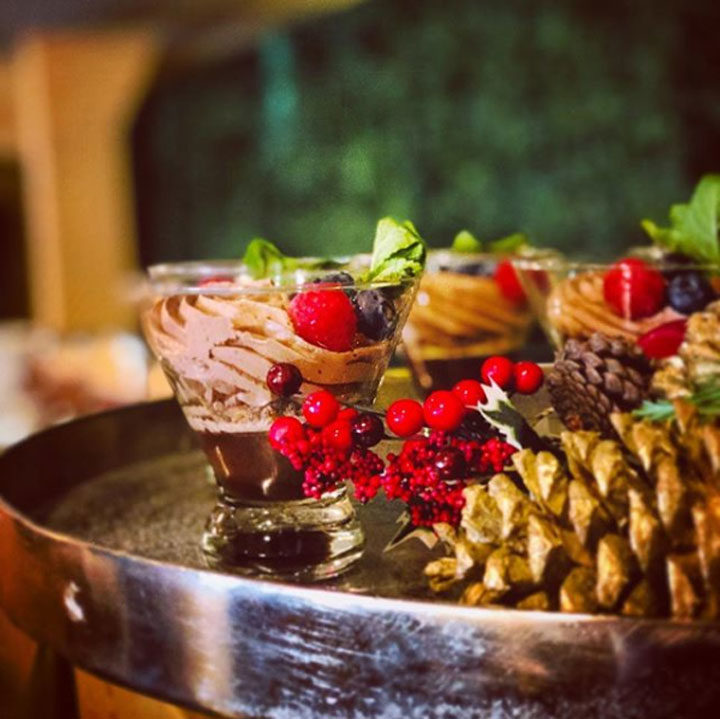 One year we coordinated a holiday party for a local client who wanted their festive experience to be snow- and ice-themed. Their party featured fake snow, mini Christmas trees and uplights that projected an ice blue color. It really transformed the whole showroom floor. We had four food stations to match the theme.
Flavorful Food, Interactive Stations
We love creating innovative stations for corporate holiday parties. Our guests like to be delighted by spices and flavors and an interesting presentation regardless of the time of year.
One of our favorite holiday food displays included an open bar with two specialty cocktails that coordinated on a glass-topped table with decor under the glass, butlered hors d'oeuvres and five different short plates. We served these items from carts and from a "chef bar," where they were made to order. Finally, we transitioned into butlered mini desserts and s'mores torched to order from carts.
We recently introduced our Noodles and Dim Sum station, which was oodles of fun for our chefs to create. It featured Ramen Minis with a choice of:
Shredded Roast Duck
Sliced Fatty Brisket
Pastrami
Quail Egg
Matzah Ball
Steamed Dumplings included:
Edamame
Roast Chicken and Fermented Black Bean
Spicy Smoked Duck and Shiitake
Chef's Dumpling Sauce
Spicy Plum Sauce
With toppings like:
Sprouts
Wood Ear
Mushrooms
Sliced Scallion
Nori
Enoki
Sliced Black Garlic
Toasted Sesame
Kimchee
Baby Bok Choy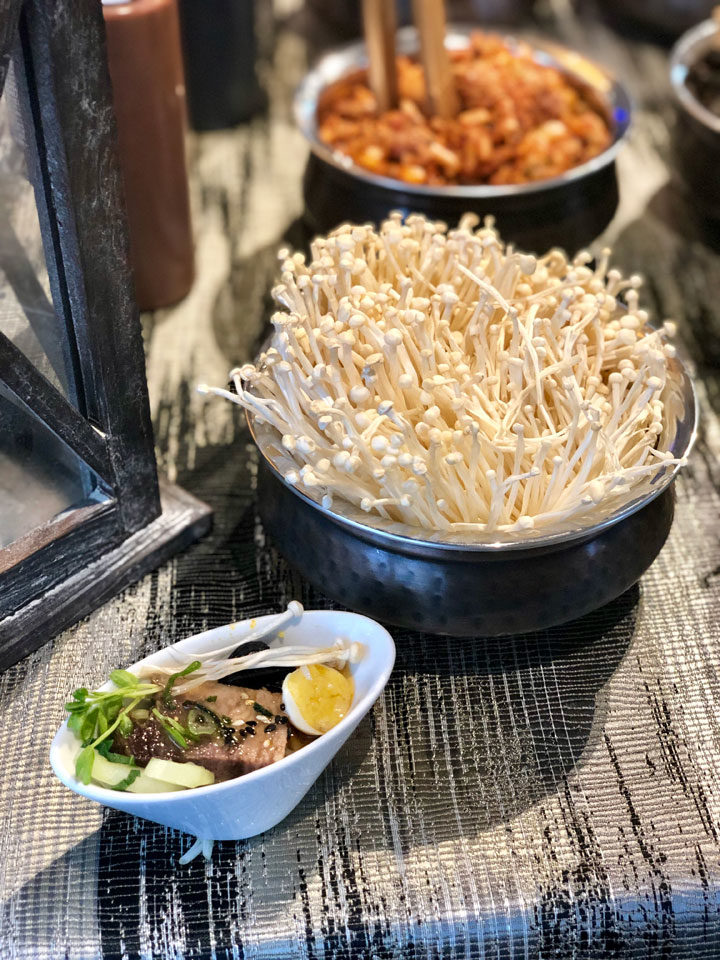 If you're looking for more mouthwatering ways to liven up your holiday party, take a look at our Holiday Menu, which is packed with winter buffets, cocktail stations, signature drinks and more!
Full-Service Holidays
We handle more than the food for your holiday party. Our seasoned staff can coordinate full décor, entertainment, liquor, rentals, linens and more. Our corporate clients don't have to deal with five or more vendors the day of the event—it's all us.
One of the best parts about working with us is our easy, straightforward booking process. First, explain your vision. Next, we'll present you with a theme and full proposal. Then we'll get your event up and running in the time we discussed with all your important details. You won't have to lift a finger from start to finish.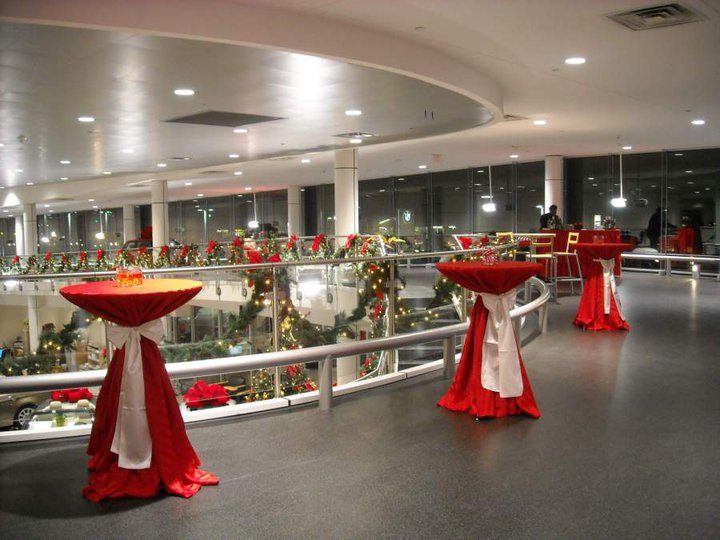 Client testimonial: We used Sensational Host for a party for about 50 people. Even though it was snowing, the staff arrived on time and had everything set up before the first guests arrived. The staff was engaging, courteous and fun throughout the event and made sure everyone was taken care of. Food was everything we expected and more. When the event ended, the staff cleaned up and left us with virtually nothing to do. I couldn't recommend them more.
We've been helping our clients put together joyous holiday parties for the last 40 years. Regardless of the size of your company, we can plan parties that include a small buffet for 25 people or a large 500-guest cocktail party in your warehouse. If you want an extravagant snow-blown theme, we can help. If you want a simple hot buffet with great food, we can help too. Tell us all about your event!

Sensational Host is nearing 40 years of exceptional catering. That's four decades and three generations of turning visions into events.